WordPress sent me my stats for the year – it was a good year for Fit for Real Life! I wanted to thank you all for utilizing me as your resource for getting the real truth about how to be optimally fit, gluten free, and motivated to go live your life to the fullest!
Here's a summary of my site this year, and key things people are reading here at FFRL…get a refresher on all the optimal health things YOU need to be doing by starting with these top posts then searching around for other posts you may have missed.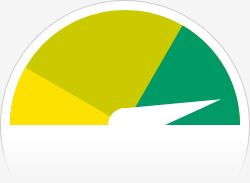 The Blog-Health-o-Meter™ reads WOW!
Crunchy numbers
In 2010, there were 116 new posts, growing the total archive of this blog to 228 posts. The busiest day of the year was February 1st with 159 views.
Some visitors came searching, mostly for pollyanna syndrome, fit for real life, modified food starch gluten, and agave nectar studies.
Attractions in 2010
These are the posts and pages that got the most views in 2010.
1
The credentials September 2009
2
About the Site August 2009
3
"Nobody ever regrets it" January 2010
4
Hey Yoplait, what you've got is Greek to me April 2010
5
Modified Food Starch|Gluten Intolerance or not, eat at your own risk April 2010
Key Posts in 2010 That Deserve a Second Look